Building Public Awareness
With a lack of public awareness of the condition, many people may not realise their persistent lower back pain could be axial SpA. We have created a selection of resources to help you raise awareness of axial SpA in your local healthcare setting and across your community.
Introducing Act on Axial SpA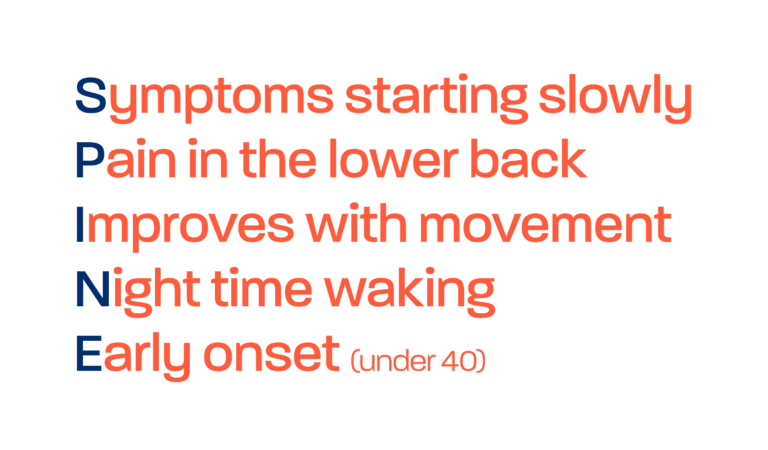 Axial SpA represents a relatively uncommon cause of a very common symptom – chronic lower back pain (1). Up to 80% of the population may experience back pain at some point within their lifetime. Thus, many individuals with undiagnosed axial SpA, lacking awareness of axial SpA, attribute their symptoms to over-exercise, injury or other life stressors; only two thirds of people with axial SpA report contacting a healthcare practitioner within 12-months of developing symptoms (2). 
Many individuals attempt to self-manage their condition until either self-management fails or the condition worsens, and they are prompted to seek professional advice (3-5). Furthermore, those who have sought clinical help but remain undiagnosed often feel dismissed or unheard by the healthcare system and cease to come forward for long periods, as their disease worsens.
Our vision: General public awareness of axial SpA and its symptoms is significantly improved. People with chronic, low back pain lasting longer than three months – particularly those aged 40 and under – are aware that it could be related to axial SpA and are motivated to consult their GP/primary care professional at the earliest opportunity and within four months of symptom onset. The public can easily check their symptoms online, feel empowered and are aware of the referral pathway if the primary care professional suspects axial SpA.
We encourage NHS organisations, professional bodies, and private and public sector organisations to support the act on axial SpA campaign which has been designed to target people who are aged 40 and under in particular. Its aim is to help people understand the condition and its symptoms, empower people to consult primary care at the earliest opportunity and make clear the referral pathway if the primary care professional suspects axial SpA. The campaign will seek to create a sense of urgency but without scaremongering.
As a healthcare professional, how can I help public awareness?
We have created posters, videos and resources you can print out and use to help increase awareness in your community.
Implementation plan
You can find out more about our plans to reduce the average time to diagnosis for axial SpA to just one year by reading our implementation plan, Act on Axial SpA: A Gold Standard Time to Diagnosis.
Read people's stories
To read stories from people who have been diagnosed with axial SpA go to our Axial SpA stories page.
References
1. Barnett R, Ingram T, Sengupta R. Axial spondyloarthritis 10 years on: still looking for the lost tribe. Rheumatology. 2020;59(Supplement_4):iv25-iv37.
2. Hamilton L, Gilbert A, Skerrett J, Dickinson S, Gaffney K. Services for people with ankylosing spondylitis in the UK–a survey of rheumatologists and patients. Rheumatology (Oxford). 2011;50(11):1991-8.
3. Martindale J, Goodacre L. The journey to diagnosis in AS/axial SpA: the impact of delay. Musculoskeletal Care. 2014;12(4):221-31.
4. Sheppard J, Kumar K, Buckley CD, Shaw KL, Raza K. 'I just thought it was normal aches and pains': a qualitative study of decision-making processes in patients with early rheumatoid arthritis. Rheumatology. 2008;47(10):1577-82.
5. Stack RJ, Shaw K, Mallen C, Herron-Marx S, Horne R, Raza K. Delays in help seeking at the onset of the symptoms of rheumatoid arthritis: a systematic synthesis of qualitative literature. Ann Rheum Dis. 2012;71(4):493-7.
A Gold Standard time to diagnosis
The current time to diagnosis of axial SpA in the UK averages approximately 8.5 years from symptom onset. This delay is unacceptable and has serious consequences for the patient. Our act on axial SpA campaign sets out a roadmap for reducing the time from symptom onset to diagnosis to just one year.